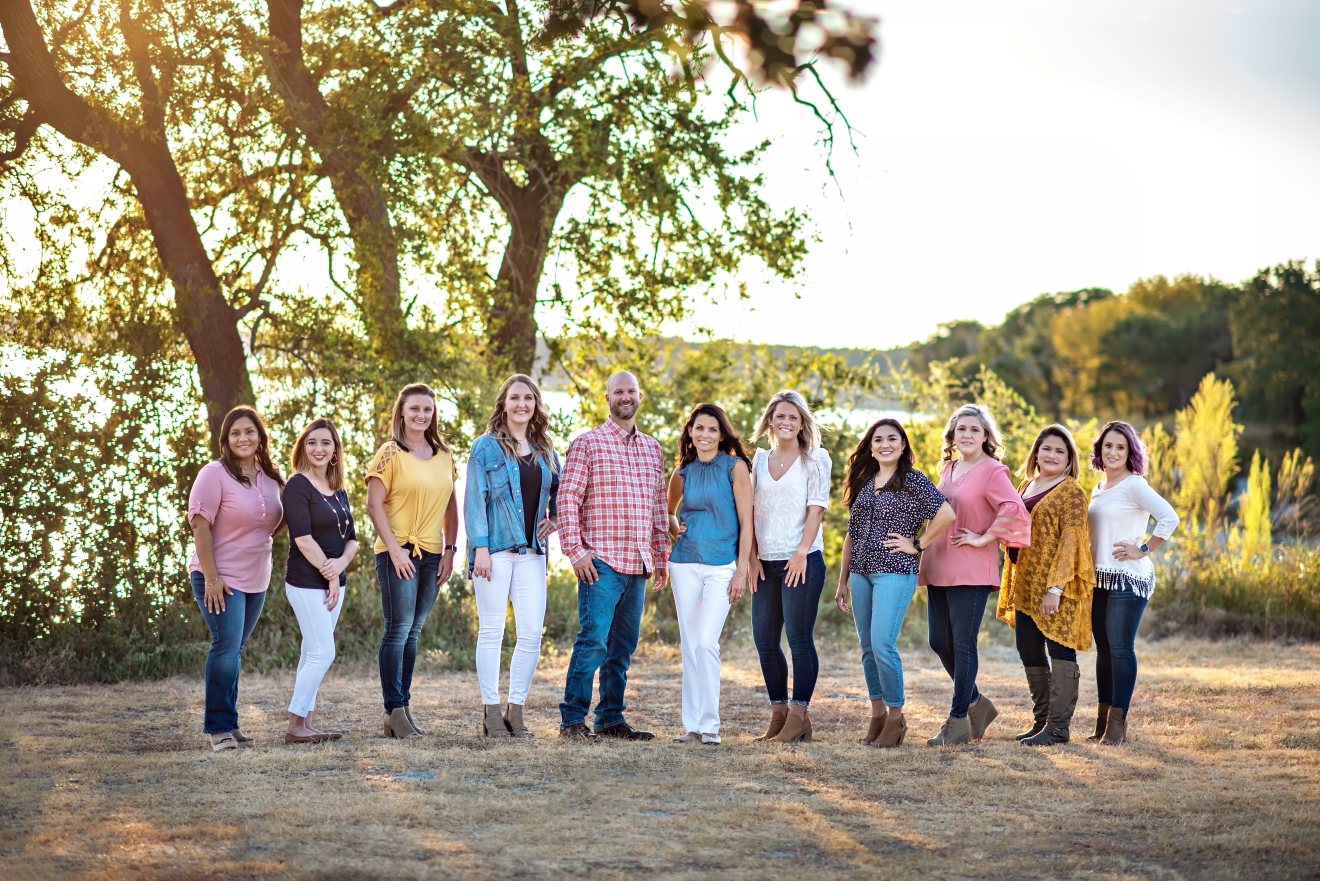 Lucas
Business Manager
I grew up in the dental field. My stepfather is a general dentist in Ohio and I was working as a chairside assistant at age 13. After Dr. Cali and I met in undergraduate school, we worked together in restaurants before she started dental school and residency. When she started West Temple Orthodontics, joining the team was a natural decision!
My role includes marketing, accounting, community engagement, and HR. I love that I get to interact with our patients, be involved in our community, and be a leader to our team. Everyone here loves what they do, and it shows!
Dr. Cali and I have been married for 17 years and have four boys. We are active in community sports, especially rec and travel baseball, and enjoy the outdoors and traveling. I personally love hunting and fishing, making central Texas the best place we could have found to settle down!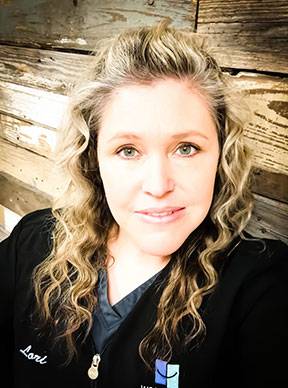 Lori
Lab Technician
I became a part of the WTO team in 2001. As a laboratory technician, I get to hand-make appliances specific to each individual patient's needs. I love having a hand in creating some of the best smiles in Texas! I also enjoy working with our team. Most of us have been working together for more than a decade and are like one big family!
At home, I have a son who plays the trumpet in the Academy High School Band. In my spare time, I like to bake and decorate all kinds of desserts.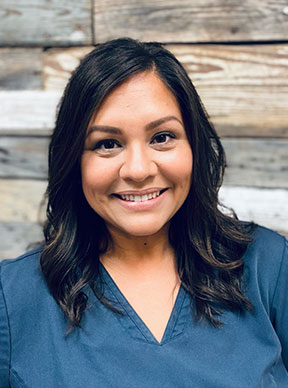 Sonia
Financial Coordinator
I have been with Dr. Cali and West Temple Orthodontics since 2003. Everyone here – Dr. Cali, my coworkers, and our patients and their families – feels like family.
Working with patients and parents, I oversee and coordinate financial records, as well as process insurance claims and follow-ups. I enjoy getting to know our patients and families during their time with us, and love seeing how happy people are with their new smiles!
My leisure time is spent attending my daughters' softball games, spending time with family, hiking, and listening to live music and attending concerts.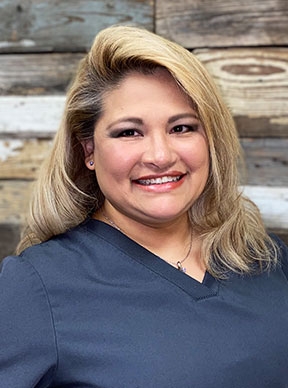 Marisol
Receptionist and Orthodontic Tech
I started in the field in 1991 and joined West Temple Orthodontics in 2003. Dr. Cali is very understanding with her patients and my coworkers really care about our patients' comfort and happiness.
Most of my day is spent at our front desk, where I greet and check-in patients, answer the phones, schedule appointments, and review patient contracts. I am cross-trained as an Orthodontic Technician and work in the clinic when needed, too. Being part of a team that creates beautiful smiles is fulfilling, and I love seeing the changed smiles that leave our office!
I am the proud mother of a Killeen fireman. I love spending time watching movies, playing with our fur babies, traveling, and enjoying the company of family and friends.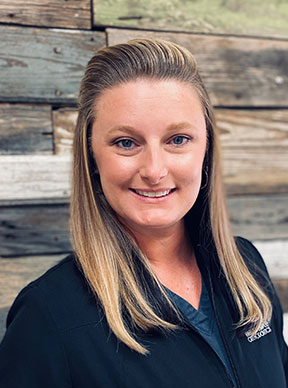 Jodi
Treatment Coordinator
I joined West Temple Orthodontics in 2019, having started in the field in 2004. Dr. Cali takes pride in her work, as does the team. We really do provide the best orthodontics and results.
I meet with our new and pending patients as they're getting ready to start the treatment process. I review their treatment plan and financials and answer any questions patients or parents might have. I enjoy meeting new people and being part of a team that helps individuals build confidence in their smiles!
My kids, Allyson and Austin, are my everything. In my free time, if I'm not shuffling the kids around, I enjoy playing softball and working out.
Kobi
Dental Assistant
I joined Dr. Cali and the West Temple Orthodontics team in 2019, after starting in the field in 2015. Dr. Cali cares about each of her patients like they are family, and that's true of everyone on the team, too.
I prepare rooms, sterilize tools, perform adjustments, and assist Dr. Cali with different procedures. It is rewarding to watch our patients' teeth and smile transform from visit to visit and to see their bright, beautiful, finished smiles!
Outside of work, I love spending time with my husband, Jakob, and young son, Krews. We have three Husky dogs that keep us outside and active! I love taste-testing food trucks and, when I have time, doing puzzles.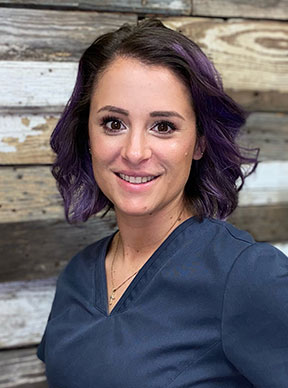 Kayla
Registered Dental Assistant
My career started in 2014 and I joined West Temple Orthodontics in 2019. Everyone in this office gives 110% to make sure our patients and families are pleased with treatment and their new smiles.
I assist Dr. Cali during procedures and provide patient care under her direction. Seeing the progression from where our patients start treatment to their finished, beautiful smiles, is so rewarding!
I married in 2013 and now have two young boys who keep me busy being a mom. When I do have free time, I enjoy doing calligraphy, binge-watching Netflix, and getting together with friends.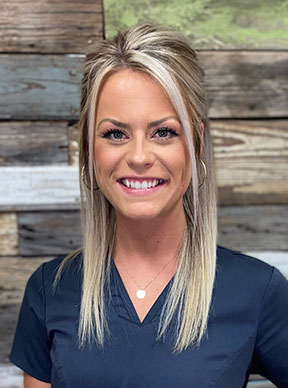 Taylor
Registered Dental Assistant
I joined the West Temple Orthodontics team in 2019 and couldn't be happier. We all work hard to give our patients a great experience and outcome, while making our office environment fun and uplifting.
In addition to preparing appointment rooms and sterilizing orthodontic tools, I provide chairside assistance to Dr. Cali and adjust braces as directed. It is rewarding to provide positive experiences for patients and to see each person transform with a beautiful new smile!
The light of my life is my son, Hayden James. I have a passion for health and fitness and enjoy spending my free time at the gym. When I'm not serving our wonderful patients or at the gym, you can find me enjoying quality time outdoors with my family and friends.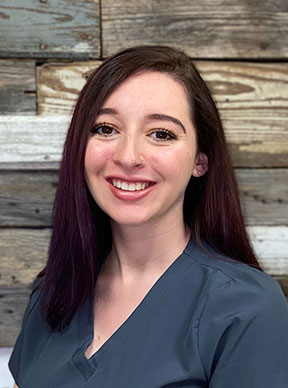 Sydney
Receptionist and Orthodontic Tech
I started at West Temple Orthodontics in 2020 and love being part of this practice. We all share a love for helping to create beautiful smiles and having fun while doing it.
I answer the phones, schedule and reschedule appointments, take patient records, and check patients in and out. I love seeing patients' confidence grow as their smile transforms, and the relationships we form with patients and their families along their journey makes it that much better!
In our free time, my husband and I enjoy being with our family, outdoor adventures with our puppies, and traveling.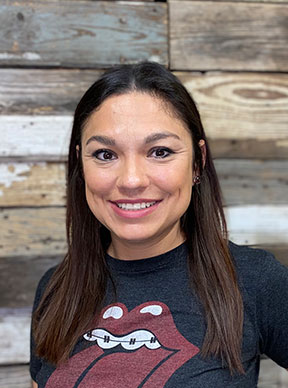 Amber
Registered Dental Assistant
I started at West Temple Orthodontics in 2005, was part of the team until 2012, and returned to the practice in 2020. This is an amazing office where we all work hard to ensure the best experience for our patients.
Working in the clinic, I remove and replace wires, take X-rays, photos, and scans, and assist Dr. Cali with patient care. I enjoy seeing the transformation that happens during treatment and how having a new smile affects each person's confidence!
Outside the office, I love spending time with friends and my family, especially my three children, Mia, Tayten, and Parker. I enjoy going to listen to music, spending my summers on the lake in Belton, and activities with Immanuel Baptist of Temple, where I've been a member for over 20 years.